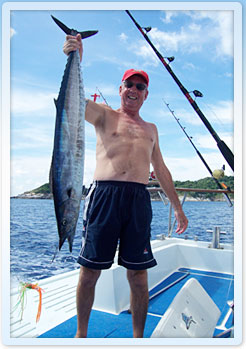 Day trips:
8 am *
Pick-up from your accommodation for transfer to Chalong Pier.
8.30am
Arrival at boat and off to the fishing ground, trolling all the way to to the Racha Islands - Ko Racha Yai and Ko Racha Noi some two hours sailing from Chalong. These two islands are several miles apart and can offer spectacular fishing, particularly for sailfish, wahoo, dorado and tuna.

An alternative fishing spot is a drop-off located some 15 nautical miles west of Phuket which also offers the angler a chance of the above species.

If we go to the Racha islands, we often stop at one of them for lunch – and weather permitting, to snorkel and swim. After lunch we continue trolling until we arrive back at Chalong.

If you do not want to fish and would prefer to day trip around Phi Phi and other nearby islands, we will be happy to take you.
5pm
Approximate return at Chalong Pier and transport to your accommodation.
*Note: Should you prefer to start later in the day, we will comply with any reasonable request. Please note also that if you chose to target particularly our Sailfishes the pick-up time will be around 10.30 so to be able to fish till sunset, the best time when all the other boats usually have already left.
Multi days : (Minimum 2 nights, three days)

Whether fishing, complemented with some diving or sightseeing, we will take you to the lovely Similan Islands, a marine National Park that is world famous for diving, and fishing for species such as marlin, sailfish, trevally, wahoo, tuna and barracuda.

The nine islands of the Similans are better known locally by their numbers 1 – 9, and are some 80 miles North West of Phuket. They and the nearby Don Mai drop-off offer exciting big game and night fishing.

Another beautiful and scenic area also renowned for sailfish that surrounding two islands of Koh Rok Yai and Koh Rok Noi, some 60 miles SE of Phuket. These two islands with their sandy beaches, cliffs and forestation offer the opportunity for excellent swimming and fishing.

Further to the west is Hin Daeng reef where barracuda, wahoo and of course, dorado and other fighting fish can be found.

Please remember however, it is your charter, and we will honour the cruising or fishing area you select where possible.