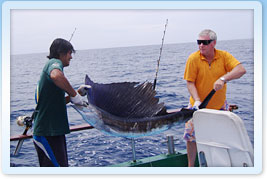 If you really want to know what Big Game Fishing is all about – join our
Andaman Islands fishing tour. Andaman and Nicobar Islands are located 450NM
West of Phuket, half way of Thailand and India, middle of Andaman Sea.

Islands (nearly 400), which are part of India, have been called the best Deep Sea
Fishing place on earth. Tuna, Dorado, Grouper, GT, Black-and Blue marlins, Sailfish,
You name it – they all are there – and they are BIG!

Trolling, jigging, popping, choose your favorite style ;))


How to get there?

You can join us from Phuket with Dorado (2 days and 2 nights) or take a plane
to Port Blair (Capital of Andaman Islands) from Bangkok (Thailand), Chennai, Kolkatta or Delhi (India). Our liveaboard tours are for minimum 5 days/4 nights

and are recommended for 6 persons. We do only private charters, not per persons.
Trips are all inclusive (transportation to and from hotel, all meals, snacks and fruits,
soft drinks, top class fishing equipment and pro crew).

Please make your reservation quite in advance, because these trips are made only once/year on february - march.
For more information of Andaman trips, Please contact us.